Why is displaying student work in the classroom important?
Student work can tell the story of student learning and development or it can share examples of published work to celebrate student accomplishment. Typically, student work displayed in the classrooms and hallways are finished, graded, and represents the best work of the students. The audience includes parents, visitors from other buildings in the district, and students in general.
Student work in the classroom can be for learning. It can be more formative and informative. The teacher and students can decide what they wish to display and why they wish to display work samples. The purpose in the classroom is to show the current learning and development happening in the classroom rather than just mastery level products.
Examples of student work displays to show ongoing development
Book reviews over or near the classroom library to inform peers of the "best of the library"
Word Walls or Vocabulary Walls with new words students add as they are reading, writing, and learning across the year
Examples of writing that is aligned to the 6 Traits or writing processes being learned
Quotes and excerpts from texts they are reading with a note as to why they like it
Student Choice – students select work they wish to display that shows their best effort with a short explanation of why they are proud of it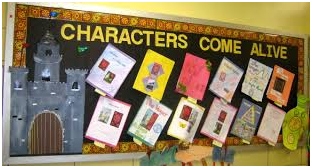 Examples of criteria developed by students for the Student Work Display Area include:
The work shows our best efforts, not just perfect work
The work shows growth or improvement (This may include displaying early drafts with later drafts)
"We Feel Proud" examples
The work is important to us, because….
Work we did with our colleagues that stretched our collaborative skills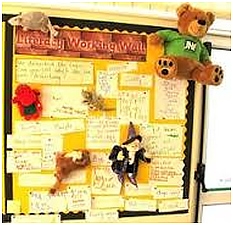 This article is #4 in the twelve-part series, "Getting My Classroom Ready for Balanced Literacy Instruction: Classroom Culture and Environment."