Guided Implementation:
Framework for Professional Learning
The Literacy Classroom Visits Professional Learning Framework
Our Framework for Professional Development implementation follows an interactive process of identification of current and enduring research and evidence based practices proven to develop classroom, school, and district literacy culture and effective instruction.
Once the LCV Foundational data is collected, professional development is planned.
The Gradual Release of Responsibility Model is used to guide whole group, small group, collaborative, and independent opportunities
A process for shared content learning through workshops, collaborative learning, and independent opportunities is designed with input from teachers and leadership.
The new and enhanced learning is integrated into daily classroom instructional practices, while time is provided for reflection, lesson development, and review of student work and observational data
Collaborative discussion of the application of learning with peers in grade level, cross grade level, and PLC teams provides opportunities to learn with and from peers.
Both classroom implementation and collaborative discussions can be guided by leadership and literacy coaches.
Throughout the interactive process of professional learning, data is collected through intentional classroom visits, with identified look for elements, to progress monitor the degree to which the shared learning is evident in instruction and student learning and these changes are tangible.
These data are reviewed periodically to analyze the effectiveness of the professional development, the impact on teacher and student growth, and areas in need of modification or change.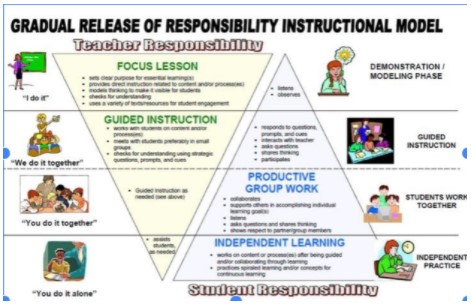 The Gradual Release of Responsibility
Focus Lesson — Shared learning through district or school wide mini session to delivery new content, allowing time for reflection, collaboration with teams, and planning
Guided Instruction — Clear system processes for planning and reviewing lessons and discussion of formative assessment and student work aligned to learning targets
Productive Group Work — Peer discussion, data review, and analysis of classroom student work to inform instruction and make decisions, individually and as a team
Independent Learning — Exploration and implementation of new learning to develop areas of professional excellence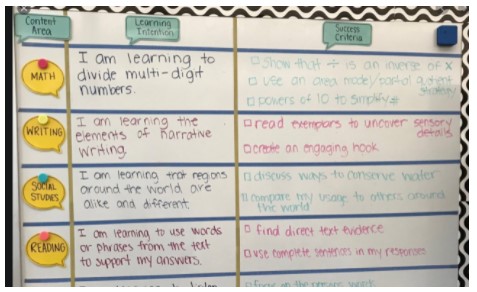 Learning Targets are "I can" statements that teachers use to provide guidance for the lesson.
Success Criteria is the action of the learning target that informs students what they will learn and be able to do when they move through the learning opportunities supporting the lesson.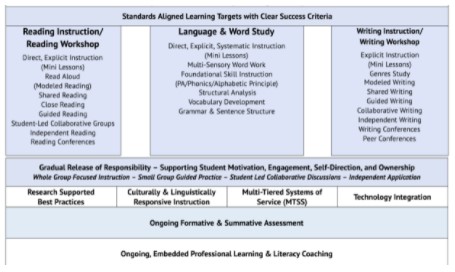 Comprehensive Literacy
Instructional Framework
Learning Targets are "I can" statements that teachers use to provide guidance for the lesson.