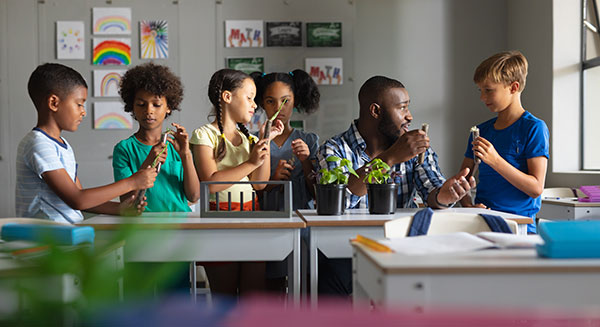 "Inclusive educators believe in valuing student differences and supporting their learning needs to the greatest extent possible!" (Nicole Eredics, Inclusion in Action, 2018)
Creating and supporting a thriving school culture is the first of three principles in the Principal Priorities Framework components. The Centre for Studies of Inclusive Education (2021) describes an inclusive school culture as an evolving and developing community that seeks to make all members feel welcome; has a common, shared philosophy; incorporates high, attainable expectations; and values equity. The commitment to quality is accompanied by the removal of barriers and obstacles for the success of each individual and the system as a whole. Principals can do a self-check to analyze the elements of strengths and identify areas in need of development.
Shared Values—A unified belief in the students and community that drives all words and actions each day.This vision relies upon the unwavering focus on student learning, with decision making that is consistent to that vision, and respectful accountability so that shared values are honored.

(American Institute for Research, 20210)
Community—Dedication to creating a safe and welcoming environment that ensures all educators and students know that they belong. This comes from a commitment to working together with mutual respect and the ability to "agree to disagree." Facts and opinions are discussed and explored with a critical lens so that students develop their analytical skills, while respecting others.

(Emberley Center, 2021)
Inclusiveness—Active, intentional actions to cultivate instructional practices that are equitable, as well as culturally and linguistically relevant. Ongoing efforts for teachers to reflect on and analyze their own racial, gender, and other biases as well as those in instructional resources and delivery, as well as the overall classroom and school environment, are critical in fostering a sense of belonging for all.

(USC Rossier School of Education, 2021)
Student Focus—Commitment to the affective and academic engagement and success of each and every student. When we make social-emotional learning (SEL) and student affective and academic growth a priority, students' overall  outcomes improve and students, as well as teachers, feel successful.

(Reckmeyer, 2021)
Engagement—Everyone is committed to the success of every student and the school as a whole. Most importantly, teachers need to be  active in the decision making and planning: " by providing teachers with the opportunity to voice their opinions on different areas that affect their engagement, principals can better partner with teachers to enhance a culture of engagement. Together, they can create an environment that is more conducive to teacher productivity, which fosters the classroom environment best suited for student engagement, hope and learning."

(Reckmeyer, 2021)
These bulleted elements cannot just be lip service; they work together to develop a sense of belonging and safety necessary for students and teachers to want to come to school and learn together. Principals must partner with teachers and students to cultivate a positive, engaging, and inclusive classroom and overall school culture.
Bonnie D. Houck is an experienced teacher, administrator, consultant, coach, author, speaker, and trainer who specializes in literacy leadership development and positive school change. Bonnie has authored books, journal articles, blogs, and webinars focused on literacy and leadership.
Tracy Frederick Corcoran serves as the Director of Teaching and Learning for a Twin Cities area school district. Tracy is an experienced teacher, instructional coach, curriculum coordinator, and AVID District Director, who enjoys providing professional development across the country.