Our classroom libraries are the heart of our literacy classroom. We need to select a wide variety of texts and organize them so that students can use strategies to select appropriate texts for their book bins. These texts are the tools for reading up to thirty minutes every day. Students choose a variety of texts for their book bins based on their interests and to practice their learning. Self-selection is an important part of shifting the ownership of literacy learning from the teacher to the student.
Selecting one's own books and reading them in school is not a luxury. It is the wellspring of student literacy and literary appreciation. (Stairs & Burgos, 2010)
What texts are appropriate for independent reading?
A text is a good fit or "just right" if:
The student self selected it based on interest, motivation, and ability
It meets their purpose for reading
It is within their reading level
It is within the range of their independent to challenge level IF there is prior knowledge and interest to persevere
The majority of words and concepts can be read or analyze successfully
Provides opportunity to practice skills and strategies to make meaning and comprehend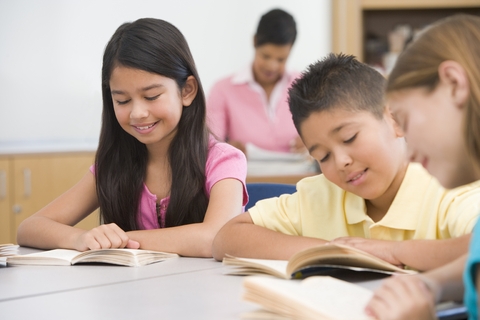 The common terms used in most classrooms are "just right" or "good fit" books. What makes a book just right or a good fit for independent reading? For years, we ensured that students were reading texts at their independent level, texts they could read and comprehend easily and on their own, during independent reading time. New research, along with the rigor of the common core, advises broadening that thinking. Students need to know their reading range: their independent or comfortable level, their instructional level that requires a little bit of grappling and application of strategic thinking, and their challenge level. Students need to consider more than the level of the text when deciding their personal reading range. They need to reflect on what makes the text hard. Are they interested in the book enough to be motivated to read a little slower and more carefully in order to understand all of the content? At what point do they feel frustrated and want to give up when they read? These are all questions to discuss with students when teachers confer.
Self-Selection Strategies
What strategies help students choose wisely?
The good old "5 finger" or Goldilocks rule works for emergent and early readers whose text is short, but it is not robust enough for students reading chapter books and novels. It also doesn't provide enough criteria for informational text selection.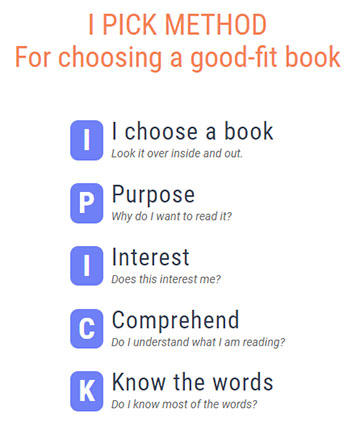 The Daily 5 offers a great strategy for many readers called "I PICK." Students learn to consider their purpose for reading, their knowledge of the topic, the level of comprehension and understanding they have for the book, and their knowledge of the vocabulary they encounter while reviewing the book.
For high-end readers, BOOKMATCH offers comprehensive consideration of text length, complexity, organization, prior and background knowledge needs, genre and text structure. It is important that students know their reading level range and have a strategy and process to think through their selections. Whatever strategy you choose to use in your classroom, be sure to explicitly teach and model its use and post the strategy in your classroom library area.
Boushey & Moser (2014) The Daily Five. 2nd Edition. Stenhouse
Wedwick, L., & Wutz, J.A (2008). Bookmatch: How to scaffold student book selection for independent reading. Newark, DE: International Reading Association.
Wedwick, L., & Wutz, J.A. (2006). Thinking outside the book box: Using Bookmatch to develop independent book selection. Voices from the Middle, 14 (1), 20–29.
Video Clip: The Two Sisters Discuss Good Fit Books
Video Clip: How to Choose a Good Fit Book
This article is #6 in the twelve-part series, "Getting My Classroom Ready for Balanced Literacy Instruction: Classroom Culture and Environment."